Discover more from Just One Thing
A delightfully short email that rescues obscura from the wasteland of the Internet – your daily bit of quirky fun.
Hi hi,
This is an exciting week for me - I'm in Bangalore with my team members and it will be a busy ten days.
I'm not the biggest traveller. I like going to one or two places in a year but I'm usually content in my little corner of the world.
That said, in the moments that I do step out, I'm always eager to soak in ALL the new experiences I can: food, sights, buildings, people.
That's the plan for Bangalore.
Thanks for reading Just One Thing! Subscribe to receive every post.
On top of my list is Cubbon Park, and what roused my curiosity about the place is this page on Instagram which documents a community of people reading in the park.
That's it; just reading.
My love for books led me to a literature degree, and though I don't spend as much time as I would like with them, they are my oldest companions.
I am not one of the people who believe that the culture of reading has ebbed over time. In fact, I think it's the opposite. If you think about the long history of gatekeeping knowledge, increased accessibility has only led to an increased number of readers in the world.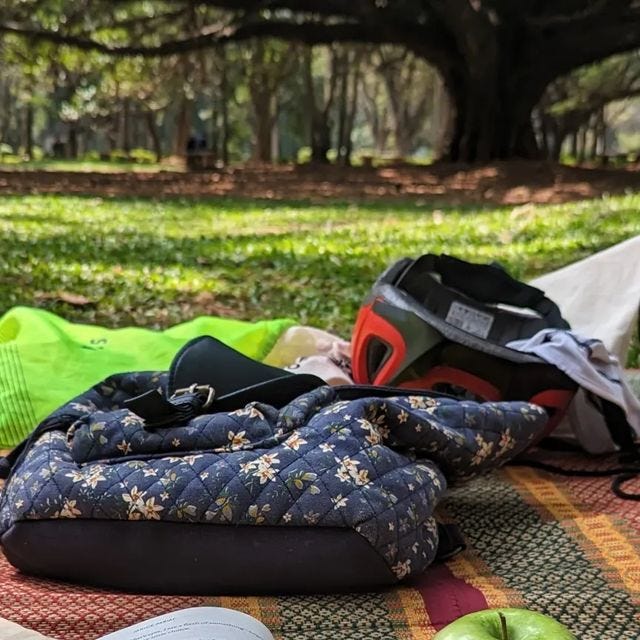 Cubbon Reads on Instagram: "An apple a day keeps the reader stayed. We always craved for a reading community which just reads together, instead of discussing, dissecting and reviewing a book together. A community that doesn't just read one book, but reads different books together. It's the act of reading that brings people together. A book, a mat, a few oranges in the sun amidst trees and dozens of readers around on their respective mats immersed in their books. Doesn't it sound beautiful? At
@cubbonreads
, our intent is to garner such quiet lovers of books (and trees!). If you are one, follow. We meet every Saturday first half at Cubbon and break out for lunch later (optional). No hard and fast rule related to timing. Come whenever, leave whenever. Come, splay your mat and start reading. No need to socialise, no need of pleasantries. A book is food for the mind, dessert for the heart. A good book is no less than medicine. Reading is such an intimate experience and even in community, it remains a personal affair. We want to preserve that essence. Great books move us, change us, heal us, and to each of us, this change and healing works differently. A book discussion community tries to homogenise the understanding from a book and while it may offer new perspectives, it often overwrites your original perspective (with the more articulate & more assertive reader projecting their thoughts over others). You read a book with your memories flowing into them, making it as much your book as the author's. That experience needs preservation. Hence, at
@cubbonreads
, we don't engage in group discussion of books. A one-on-one discussion over a walk in Cubbon is always welcome, as long as it's consensual. There's no social etiquette to maintain other than a natural quiet for long periods of time so as to not disturb fellow readers. Think of this as a library amidst nature that breaks out for lunch and nibbles on fruits like squirrels once in a while. Come, read with us. We usually sit near the old tree (near Cubbon statue) with its arms wide open (our DP) to hug you from all sides. The location is in our bio.
#cubbonpark
#cubbon
#cubbonparkbangalore
#cubbonparkdiaries
#books
"
Cubbon Reads vindicates my belief. It showcases people reading in leisure, stacks of books, and a community of people who like to spend their time with books.
Although clouds gather in the sky every morning, my parade will not be rained on. One of these days, I will trek to the park with a pretty blanket, gumboots and all.
Maybe I'll even meet you there?